Education in China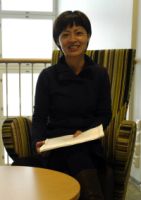 Education in China generally consists of four phases, namely preschool education, primary education, secondary education and high education.
Preschool education is becoming increasingly important in China since we attach more and more importance to the education of this phase, we have a saying that what kind of education a kid of three years old receives decides what kind of person he or she will become in the future. Preschool education is mainly kindergarten of three years: bottom classes for kids from 3-4 years old, middle classes for 4-5, and top classes for 5-6, of course there're also nursery classes for 2-year-old kid if you prefer. Kids learn how to have good habits and develop them from different aspects. Most of the kindergartens in China are private now, and that's why we have almost the highest tuition for this part of the education, especially when parents prefer superior kindergarten for their kids.
Besides the normal preschool education, we also have irregular education with various forms for kids, such as children activity centers, game groups, etc.
For primary education, it contains 6 years. The Compulsory Education Law started from 1986 in China specifies 9 years of compulsory education, and the 6 years of primary education is included, so that it is free for all the students to study in public primary schools. Students who graduate from primary schools may, without examinations, advance to the appropriate junior middle school, which is the other part of compulsory education.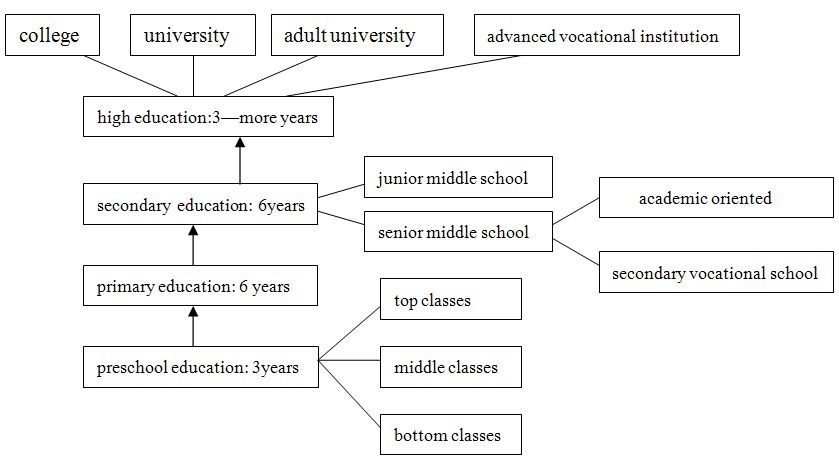 Secondary education contains two parts: Junior middle school and senior middle school education. Junior middle school graduates, after 3 years of free compulsory education, may enter senior middle schools after passing examinations set by the local examination authorities. The result decides whether they can go to academic oriented senior middle schools which aims at advancing to high education, if failed in the examination, there's secondary vocational school waiting for them, after which they can either work or advance to high vocational education if they pass a certain kind of examination.
High education is becoming popular in China now, though there's still college entrance examination for senior school graduates, the result only decides what kind of university or college you can go to instead of deciding who can advance to high education, as it did in the past. There're different kinds of high education in China: regular universities, colleges, adult universities, advanced vocational institutions as well as other alternative forms of higher education institutions. For regular universities, 4years to achieve bachelor's degree, 2-3years to achieve master's degree, and then doctor's degree.
Author:
Ni Huaying (English name: Susan), lecturer in Shaoxing University, China. Exchange teacher at JAMK University of Applied Sciences, Teacher Education College in Spring 2010.